By Ryan Yousefi
A Coconut Creek man was arrested and charged with two counts of attempted murder after stabbing two victims with scissors because he would be evicted.
On March 13, Broward County Sheriff's deputies responded to an emergency call claiming two women had been brutally stabbed at the Monarch Station at 4901 West Sample. 
According to the arrest report, when deputies arrived, they discovered Coconut Creek police officers had already detained the alleged suspect, later identified as Bruce Kendall Florence, 36, at the crime scene. The report notes Florence refused to answer law enforcement questions about what had transpired. 
According to a statement from the property manager for Monarch Station, where the stabbing occurred, the apartment complex had issues with Florence, a resident there, in the past and had already requested a seven-day notice for him to vacate his apartment. 
The report states one of the victims provided a statement to CCPD and said that Florence walked into the main office upset after finding a notice on his door. 
The statement claims both victims attempted to defuse the situation. Still, Florence became increasingly agitated and, at one point, said, "What if I kill both of you?" before he pulled out a set of scissors and stabbed one of the victims in the face and jaw. 
The arrest report shows that when the victim fell to the ground, Florence stabbed her in the neck and that when the second victim attempted to intervene, she was also stabbed.
While being treated in the hospital, it was later found out that one victim with the most severe injuries was stabbed seven times, while the second victim was stabbed at least three times. 
As a result of her stab wounds, one victim's lung collapsed, making it difficult for her to breathe. 
The victim statement says both victims fled from the main office looking for help and eventually arrived at an apartment where they received first aid. The victims quickly identified Florence as their alleged attacker, and multiple police agencies were notified.
Further evidence obtained by police linking Florence to the attack was cut he had on both hands that required being transported to the hospital after being detained. 
Based on the victim's statements, witnesses' identification, and physical evidence on the scene,  Florence was arrested and charged with two counts of attempted homicide and two counts of aggravated battery for both female victims.
Following medical attention, Florence was transported to the Broward County Main Jail and held without bond.
Got News in Coconut Creek? Send it Here. Keep reading NW Broward County's #1 News Sites: Parkland Talk, Coconut Creek Talk, Coral Springs Talk, Margate Talk, and Tamarac Talk.
Author Profile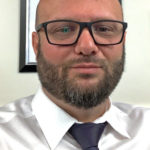 Ryan Yousefi has lived in Coral Springs for over 30 years. He has worked as a writer for multiples outlets over the years, including the Miami New Times where he has covered sports and culture since 2013. He holds a Bachelor's Degree and a Master's Degree in Business Healthcare Management from Western Governors University.