By Ryan Yousefi
A was arrested and charged with aggravated assault on a police officer after flashing a firearm toward a Coconut Creek officer during a heated altercation.
On February 15, a police officer from the Coconut Creek Police Department was parked in a parking lot near the Bonefish Mac located at 6174 West Sample Road, awaiting a scheduled meeting with an unrelated party when two men approached his vehicle. 
According to the report, as the officer sat inside his marked patrol car, the two men, one later identified as Mario Gonzales, 31, of Margate, aggressively approached while yelling, "What the f— you looking at?!" 
The officer wrote in the arrest report once he exited the vehicle, both men began to surround him. The officer noted he continually attempted to diffuse the situation by instructing the individuals to step away and go about their night, adding that he was not there for them.
The arrest report shows instead of backing away from the officer and leaving; the situation quickly escalated when one of the individuals, Mario Gonzales, began to take fighting postures and yell "I'm not scared you!" The report shows a female arrived on the scene; the second man walked away. 
The officer wrote even as the man that was accompanying him left the scene, tensions continued to grow. The arrest report indicates Gonzales lifted his shirt to disclose a black handgun tucked in his waistband at one point.
Gonzales began to reach for the firearm, and in response, he was forced to draw his gun and instruct Gonzales to let him see his hands, according to the police report. 
While keeping an eye on Gonzales, the officer called for backup and instructed Gonzales to sit down on the curb with his hands up. Eventually, Gonzales was detained by the arriving officers.
Gonzales was arrested and transported to the Broward County Main Jail. He later posted a $25,000 bond and was released.
Got News in Coconut Creek? Send it Here. Keep reading NW Broward County's #1 News Sites: Parkland Talk, Coconut Creek Talk, Coral Springs Talk, Margate Talk, and Tamarac Talk.
Author Profile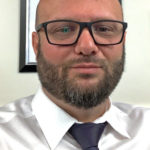 Ryan Yousefi has lived in Coral Springs for over 30 years. He has worked as a writer for multiples outlets over the years, including the Miami New Times where he has covered sports and culture since 2013. He holds a Bachelor's Degree and a Master's Degree in Business Healthcare Management from Western Governors University.