By Ryan Yousefi
A man was arrested and charged with child abuse and discharging a firearm in public after firing a gun inside an apartment just steps away from a child amidst a physical altercation with another man.
On April 20, the Coconut Creek Police Department responded to a battery incident at a residence, reporting an injured victim and an assailant that had already fled the scene. 
The report shows the caller described the assailant, later identified as Teran Korain Bryan, 32, as a man wearing a white shirt with dreads. 
According to officers that responded to the scene, upon arrival, they quickly located a man fitting Bryan's description sitting in the passenger seat of a car in front of the building where the assault allegedly occurred.
The report states that when fellow officers arrived at the residence, they encountered a victim covered in blood with a bloody towel on his head and a large blood stain on his bed.
According to the arrest report, the victim told officers he was inside the apartment when Bryan began hitting him, causing his injuries. The report gives no indication of why the victim was in the home, but it does not appear he was uninvited. 
Upon interview, the report says that Bryan told officers he assaulted the victim because he didn't know who he was and that he was inside his apartment, which made him fear for his safety. 
The report shows Bryan responding, "I don't remember," when asked why he feared for his safety. He refused to speak further and requested a lawyer.
According to the arrest report, the victim decided not to press charges against Bryan.
Upon further investigation, officers found a spent shell casing and a bullet hole in the south window where the bullet had left the apartment, indicating a firearm had been recently discharged in the home. 
The report says that during questioning, Bryan's wife, who was in another room at the time of the incident, confirmed that she had heard a struggle and a gunshot. 
Officers later discovered that a young child was just feet away from Bryan when he discharged the firearm in the room where the assault occurred. 
He was arrested and transported to the Broward County Main Jail. He was later released after posting a $6,000 bond.
Got News in Coconut Creek? Send it Here. Keep reading NW Broward County's #1 News Sites: Parkland Talk, Coconut Creek Talk, Coral Springs Talk, Margate Talk, and Tamarac Talk.
Author Profile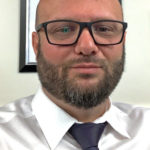 Ryan Yousefi has lived in Coral Springs for over 30 years. He has worked as a writer for multiples outlets over the years, including the Miami New Times where he has covered sports and culture since 2013. He holds a Bachelor's Degree and a Master's Degree in Business Healthcare Management from Western Governors University.