By Ryan Yousefi
A man was charged with domestic violence after punching his wife in the face after she told him to stop drinking and driving.
On January 25, Coconut Creek Police responded to a domestic violence emergency call near the 6400 block of Lyons Road.
According to the arrest report, deputies encountered the victim, who claimed her husband, Kenneth Alan Steinmueller, 55, of Boca Raton, had physically assaulted her.
The victim told deputies the physical altercation occurred while the couple was driving in Coconut Creek. According to the police report, the victim stated that she and her Steinmueller were arguing about his drinking and penchant for driving while drunk. 
According to the victim, during the argument, Steinmueller placed his fingers in his ear so he could no longer hear her talking to him, and when she attempted to remove his hands from his ear, he punched her in the face. The victim told police once Steinmueller pulled over, she called her mother to pick her up and report the incident. 
Coconut Creek Police noted in their report that the victim's claims were backed up by visible facial swelling and a cut above her two front teeth.
The arrest report shows during his portion of questioning, Steinmueller was less than forthcoming about what had transpired during the incident and, contrary to evidence, claimed the victim had punched him in the face.
After interviewing both the victim and her husband, police determined Steinmueller had physically assaulted his wife while driving a motor vehicle. 
Steinmueller was placed under arrest for domestic violence and transported to the Broward County Jail.
Got News in Coconut Creek? Send it Here. Keep reading NW Broward County's #1 News Sites: Parkland Talk, Coconut Creek Talk, Coral Springs Talk, Margate Talk, and Tamarac Talk.
Author Profile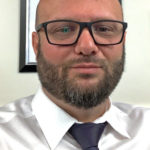 Ryan Yousefi has lived in Coral Springs for over 30 years. He has worked as a writer for multiples outlets over the years, including the Miami New Times where he has covered sports and culture since 2013. He holds a Bachelor's Degree and a Master's Degree in Business Healthcare Management from Western Governors University.