By Ryan Yousefi
The Friends of Music invites the Coral Springs and Parkland communities to come together at its annual Mingle & Jingle event to help benefit local student music programs. 
The Mingle & Jingle takes place at the Marriott Coral Springs at Heron Bay, located at 11775 Heron Bay Boulevard, on Thursday, December 1, at 6:30 pm. Tickets for the event can be purchased for $70 per person, including a sit-down dinner, entertainment, silent auctions, raffles, and a cash bar. 
According to Friends of Music Ways & Means Chairman Kathy Schultz, entertainment at the event will be provided by student ensembles from high schools in Coral Springs and Parkland. 
Schultz also gave Parkland Talk readers a sneak peek into a wide variety of the items that will be up for auction.
"The silent auction will be made up of many baskets filled with unusual things for the household, gift certificates from local restaurants and hair salons, wine, liquor, champagne, and gourmet food items," Schultz said. 
"Auction items  have tickets for events at Palm Beach Drama Works, Coral Springs Center for the Arts, New World Symphony, Actor's Playhouse, and more." 
For those feeling their luck, Schultz says the Mingle & Jingle raffle prize will be a holiday wreath decorated with $150 worth of real money.
An annual fundraiser, the Mingle & Jingle event aims to raise funds for music community music programs and events throughout the year. Friends of Music is a non-profit organization that, over the last 19 years, has donated more than $280,000 to schools in Coral Springs and Parkland to help support their orchestras, choral groups, and band programs. 
"Friends of Music believes that music instruction reliably improves skills in math, engineering, art, and working with computers," Schultz said. "Practicing music improves cognitive skills, focus, and IQ."
Those looking for more information about purchasing tickets or answers to questions about the Mingle & Jingle fundraiser can contact Kathy Schultz or call 954-736-8572.
Send your news to Parkland's #1 News Source, Parkland Talk.
Author Profile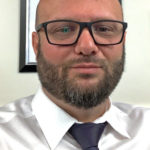 Ryan Yousefi has lived in Coral Springs for over 30 years. He has worked as a writer for multiples outlets over the years, including the Miami New Times where he has covered sports and culture since 2013. He holds a Bachelor's Degree and a Master's Degree in Business Healthcare Management from Western Governors University.