By Ryan Yousefi
A medical assistant was arrested and charged with 12 separate crimes after it was discovered she had stolen patients' credit cards and cash while they were in her care at a Boca Raton doctor's office. 
On April 10, the Coconut Creek Police Department began investigating credit card fraud on April 5-6.
According to the arrest report, the investigation uncovered multiple victims of credit card fraud that, eventually, were able to link the loss of their credit cards and cash to recent visits to the Associated Family Physicians office located at 9910 Sandalfoot Boulevard in Boca Raton.
The report shows that a medical assistant who helped care for the patients, later identified as Paige Omega Wilkins-Byrd, 33, of Lauderdale Lakes, was later discovered to have stolen their credit cards and attempted to use them at various Publix locations.
The report states that Wilkins-Byrd saw her theft scheme start to unravel after a clinic patient made the connection between a recent visit to Associated Family Physicians and notifications he soon after received from his bank that warned his credit card was attempting to be used for a large purchase.
According to the report, the man discovered his credit card missing only after receiving the notifications. He retraced his steps to his visit to the clinic, where he had been asked to take out his wallet and keys while being weighed. 
During the investigation, the victim told officers he lost sight of his belongings after being led into a room to wait for the doctor and that "chunky" heavyset black female medical assistant with colorful tattoos was the last to be seen with them.
The report shows that officers investigating the incident viewed surveillance footage taken from a Publix located at 5365 Lyons Road that showed Wilkins-Byrd wearing scrubs and attempting to use the victim's card and numerous other cards. 
According to the report, after having multiple cards declined, Wilkins-Byrd was eventually able to purchase items worth over $300 with an American Express card and left the store, where according to deputies, she drove in reverse in the parking lot to ensure her license plate was not recorded. 
Records show that on separate occasions Wilkins-Byrd had also conducted similar crimes at a Publix store located at 4760 West Hillsboro Boulevard.
The report shows that on April 10, officers responded to the Associated Family Physicians location to further their investigation. They located the vehicle that had been viewed on the Publix surveillance footage parked in the parking lot. 
Upon running the license plates, officers discovered Wilkins-Byrd was on probation stemming from charges of credit card fraud in September of 2022.
The arrest report shows that after credit cards were declined at the Publix located at 4760 West Hillsboro Boulevard, officers contacted the daughter of the card's owner, who told officers her mother had recently visited the clinic and had received strange questions from a nurse about her belongings.
According to the daughter, her mother later discovered $120 and credit cards were stolen from her purse. With the investigator's help, they determined it was likely Wilkins-Byrd, the same woman that worked at the clinic. 
Following the investigation, a warrant was placed for Wilkins-Byrd's arrest.
On April 25, she was taken into custody near the 2900 block of North State Road 7 and transported to the Broward County Main Jail, where she is being held on a $30,000 bond. 
In the aftermath of Wilkin Byrd's arrest, Marilyn B. Cabral, the Administrator of Associated Family Physicians, reached out to Coconut Creek Talk to provide some additional perspective on what occurred, and to express regret for what they label an "isolated incident."
"We at Associated Family Physicians want to address the recent incident involving one of our new hire medical assistants.  We do want to assure you that vet our employees exhaustively," Cabral told Coconut Creek Talk.
"We regret that this happened. We've been in business for over 30 years, and are proud of the care we give to all our wonderful patients."
"As soon as we became aware of the situation, we took immediate action. We cooperated fully with law enforcement and believe that our cooperation led to an expedited resolution to the investigation."
Got News in Coconut Creek? Send it Here. Keep reading NW Broward County's #1 News Sites: Parkland Talk, Coconut Creek Talk, Coral Springs Talk, Margate Talk, and Tamarac Talk.
Author Profile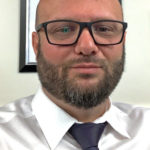 Ryan Yousefi has lived in Coral Springs for over 30 years. He has worked as a writer for multiples outlets over the years, including the Miami New Times where he has covered sports and culture since 2013. He holds a Bachelor's Degree and a Master's Degree in Business Healthcare Management from Western Governors University.