By Ryan Yousefi
A man was arrested for robbery with a deadly weapon after stealing a bag at knifepoint from an amputee man on a city bus. 
On April 18, the Coconut Creek Police Department responded to an area near the 2400 block of Lyons Road in response to a physical altercation involving a deadly weapon on a Broward County Bus.
According to the report, the victim, an amputee with a prosthetic right leg, told officers he was sitting in the front section of the bus when a man, later identified as Carlton Lee Black, 28, of Pompano Beach, approached him from the back of the bus. 
The report shows the victim alleged Black whispered to him that he was taking his bag and not to fight, but the victim held onto the bag to prevent Black from taking it. 
Black and the victim continued to struggle up and down the bus aisle until, at one point, a switchblade knife fell out of the side of his bag.
The report shows Black then held the knife in a threatening manner and told the victim to let go of the bag or he would use the knife. The victim told officers he let go of the bag, allowing Black to take his belongings and flee the bus. 
According to the report, Broward County Transit contacted 911 about the incident, which led to Black being placed into custody by Coconut Creek Police after he was observed waiting at a bus stop southbound on Lyons Road.
Black was arrested and transported to the Broward County Main Jail, where he is being held on a $35,000 bond and ordered to take a mental health screening.
Got News in Coconut Creek? Send it Here. Keep reading NW Broward County's #1 News Sites: Parkland Talk, Coconut Creek Talk, Coral Springs Talk, Margate Talk, and Tamarac Talk.
Author Profile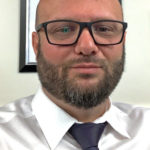 Ryan Yousefi has lived in Coral Springs for over 30 years. He has worked as a writer for multiples outlets over the years, including the Miami New Times where he has covered sports and culture since 2013. He holds a Bachelor's Degree and a Master's Degree in Business Healthcare Management from Western Governors University.